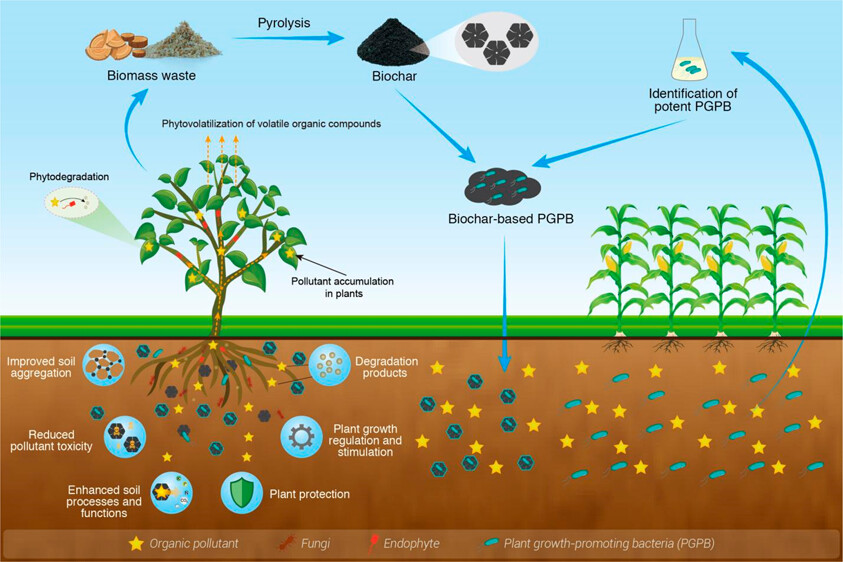 Title: Biochar: Ancient Wisdom for a Sustainable Future
In the urgent quest for sustainable solutions to combat climate change and bolster agricultural practices, we often find inspiration in age-old wisdom. Biochar, also known as "terra preta" or "black earth," is a prime example of this timeless wisdom that holds the potential to revolutionize our approach to farming, carbon management, and environmental stewardship.
The Ancient Origins of Biochar
Biochar has its roots in indigenous farming practices that date back thousands of years. These practices, especially prevalent in the Amazon rainforest, involved the creation of biochar through pyrolysis, a process that converts biomass into a stable, carbon-rich material. The result was soils incredibly rich in nutrients, teeming with microbial life, and capable of supporting abundant crop yields.
Unlocking the Power of Biochar
Today, we're rediscovering the power of biochar and recognizing its immense potential in several key areas:
Enhancing Soil Fertility: Biochar's porous structure serves as a refuge for beneficial microorganisms, providing a thriving habitat for soil life. This translates to improved nutrient availability, water retention, and overall soil health.
Carbon Sequestration: One of biochar's standout features is its ability to sequester carbon for the long term. By incorporating biochar into agricultural soils, we can help combat climate change by locking away carbon dioxide from the atmosphere.
Mitigating Nutrient Runoff: Biochar-amended soils are effective at reducing nutrient runoff, which contributes to water pollution. This is crucial for protecting our waterways and aquatic ecosystems.
Supporting Sustainable Agriculture: Biochar offers a sustainable approach to farming that reduces the need for synthetic fertilizers and fosters resilience in the face of climate change.
Recent Research: Biochar's Potential
Recent research has shed new light on the remarkable capabilities of biochar:
– Carbon Negative Construction Materials: Innovations in biochar production have given rise to carbon-negative building materials. Researchers are exploring the use of biochar in materials like concrete, which store more carbon than is emitted during their production. This holds the potential to revolutionize the construction industry's carbon footprint.
– Biochar as a Climate Mitigation Tool: Studies indicate that large-scale biochar deployment in agriculture has the potential to significantly offset greenhouse gas emissions. This promising avenue underscores biochar's role as a climate mitigation tool.
– Biochar for Soil Remediation: Biochar's ability to immobilize heavy metals in contaminated soils is an emerging area of interest. It offers a sustainable approach to soil remediation, reducing the environmental impact of hazardous waste.
– Biochar and Circular Economy: Research explores biochar's role in closing the loop in a circular economy by converting organic waste into a valuable resource. This aligns with broader sustainability goals and waste reduction efforts.
Embracing Biochar for a Sustainable Future
As we navigate the challenges of a changing climate and a growing population, biochar represents an extraordinary convergence of ancient wisdom and modern innovation. Its capacity to enrich soil, sequester carbon, and rejuvenate ecosystems positions it as a cornerstone of sustainability.
Biochar reminds us that the solutions to some of our most pressing environmental challenges may have been right beneath our feet all along. It's a testament to the enduring wisdom of those who came before us and a beacon of hope for a more sustainable and regenerative future.
Let's embrace biochar as a bridge between the past and the future—a catalyst for positive change that transcends time and propels us toward a more sustainable and regenerative world.
Discover more about biochar and its role in sustainability and environmental stewardship. Join the journey toward a more sustainable and regenerative future.
Hits: 33